Parabolic Performance & Rehab
TELE
PHYSICAL THERAPY
Continue moving forward with your physical therapy treatment. VIRTUALLY.
Parabolic's team of leading Physical Therapists will continue your current treatment plan for issues including arthritis, back pain, neck pain, joint injuries, stress injuries, and post-surgical care through virtual Tele Physical Therapy.
NOW IS THE TIME TO
TAKE ADVANTAGE

OF OUR
VIRTUAL SESSIONS
include:
Ongoing Home Exercise Programs
20 Minute One-on-One Check-In Treatment Sessions
45 Minute One-on-One Check-In Full Treatment Sessions
Parabolic's TelePT Platform is HIPAA Compliant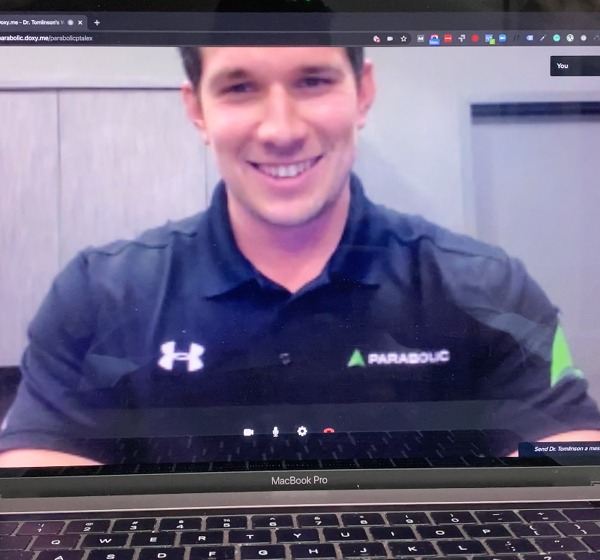 CONTINUE PT
VIRTUALLY
SCHEDULE NOW
Tele

PT
continue progressing
A member of our team of leading Physical Therapists will go through a comprehensive Selective Functional Movement Assessment, identical to those being used for in-person visits. Then they will create a plan of care based on their observations from the movement screen. Therapists will prescribe and oversee corrective exercises in this dedicated, one-on-one environment. The patient's home exercise program will be evaluated and demonstrated, and when appropriate, a video of the program will be emailed to the client.
In follow-up sessions, our Parabolic Physical Therapist will perform a re-evaluation, and a review of the current prescribed home exercise program at the beginning of each session in order to monitor progress and carryover of instruction.
For post-operative clients we can provide access and advice following surgery, well before patients can safely attend outpatient therapy. Our Physical Therapists have the expertise required to ensure post-operative clients are protecting their repair and are following all prescribed protocols and precautions indicated by their surgeons.
Parabolic's Tele Physical Therapy also allows continuity of care for patients who have difficulty getting to in-person sessions. For whatever the reason, TelePT allows clients access to our team of therapists in a one-on-one environment from the convenience of their own home.

Parabolic Performance & Rehab
ONE-ON-ONE
PHYSICAL THERAPY
FROM THE CONVENIENCE
OF YOUR HOME